My Mobile APP is Awesome!
Find homes on the go!

CLICK HERE for INSTANT ACCESS from any CELL or TABLET.
Imagine… you're driving around on the Cape. You just had a delicious meal and you are heading to the beach to watch another breath-taking sunset. Up ahead you see a For Sale sign on a home that captures your heart. You must know more… RIGHT NOW!!! How much are they asking? How many bedrooms? …baths? Is it updated? Does it have a finished basement? Please say it has an outdoor shower…" Grab your device with My Mobile App and you will have the listing at your fingertips in an instant! No calling a number on a sign… leaving a message… waiting for a call back… waiting for the agent to send you an email with a link so you can look at the pictures and read all the info… PLUS, by the time they have called you back that ship has sailed (well, you drove to the beach, remember? You're not gonna miss that sunset waiting for a call back!).

Oh, and if it happens you were out on a sunset cruise and you saw a house from the water….? You got it! It works from a boat as well! Just don't drop your phone in the water with all this excitement.

Ok, you've seen the pics and read the specs. You have to get inside asap. You can contact me for a showing and more info right from the app! You'll find your dream home, drive off to see many more sunsets and live happily ever after.
Really.
IT'S FAST AND FREE!
Click on the pic below and get FREE instant access to local homes from any cell or tablet.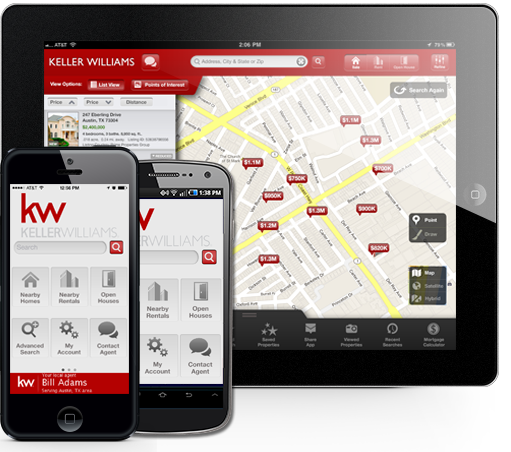 Keller Williams Realty Real Estate Search available on Android, iPhone, or iPad gives you access to more than 4 million homes.